A design reminiscent of the colonial Indochina in the 1930s featuring timeless and sophisticated aesthetics, La Regina Grand Cruises, The Queen of the Bays boasts a total of 27 spacious suite cabins complete with floor-to-ceiling windows and private balconies that offer spectacular panorama views of Lan Ha Bay. Every suite is a beautiful and tranquil retreat, a blend of timeless elegance and modern conveniences and luxuries accompanied by impeccable and personalised service.
2 Days 1 Night
Sightseeing Point
Anchor
Photo spot
Kayaking
Bamboo boat
Swimming
DAY 1: Hanoi – Tuan Chau Marina – Halong Bay – Lan Ha Bay
08:45 – 09:00 La Regina Grand Cruise luxury limousine picks you up from your hotel in Hanoi Old Quarter to start your journey to La Regina Private Lounge.
11:30 Arrive at La Regina private lounge – Lot 24, Tuan Chau Marina – Ha Long, enjoy welcome drink and express check-in before boarding.
12:30 Transferred by speed boat to La Regina Grand Cruises. Welcome aboard the cruise, refresh with our welcome drink while Cruise Manager briefing cruise orientation, activities & on board safety. The boat starts to cruising to Lan Ha bay.
13:15 Delicious lunch is served in restaurant while the cruise is passing Chan Voi (Elephant Feet), Van Boi and Tra Bau area.
15:00 Start your first off – board activity, doing kayaking or swimming to discover Tra Bau or Van Boi. This is the most ideal paradise for swimming.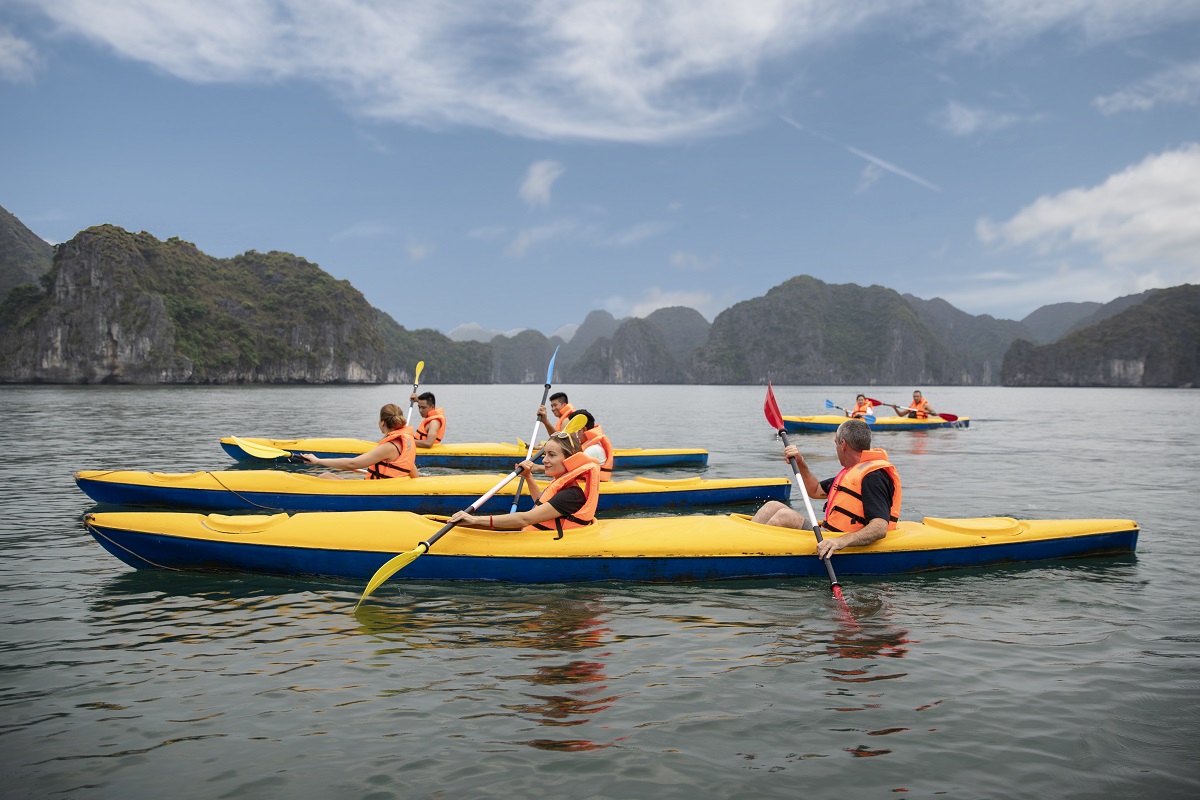 17:00 Come back the cruise for relaxing.
19:00 Enjoy our special dinner in the restaurant.
After dinner, it's your choice for a fun squid fishing, spa, karaoke or relaxing (charge fees)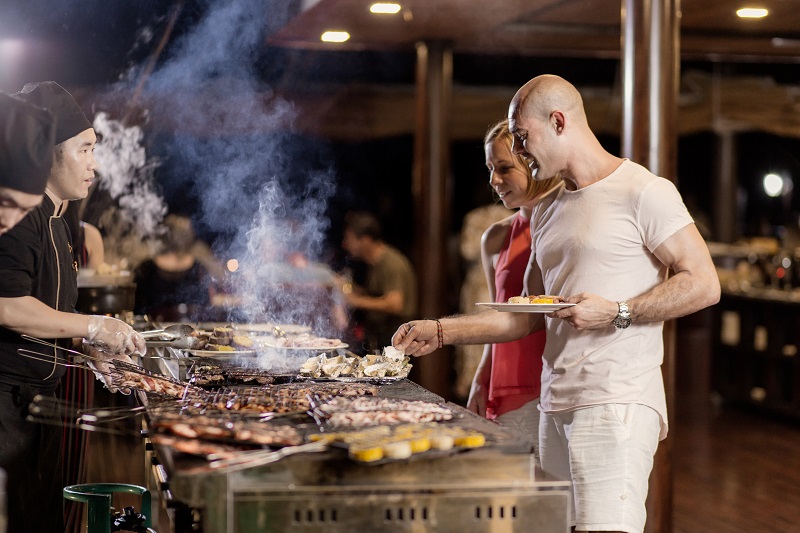 DAY 2: Lan Ha Bay – Halong Bay – Tuan Chau Marina
06:00 Greet the new day on the sundeck.
06:15 Light breakfast is served.
06:45 Cruise further to Hang Sang – Hang Toi – one of the best attractions on Lan Ha Bay which is best known for its pristine and tranquil beatuty. Exploring the area by local boat.
09:30 Check out of the cabin. Vietnamese cuisine buffet is served at the restaurant.
12:00 Disembark from the cruise as our crew sa farewell, back to Tuan Chau Marina by our speed boat.